About The Show
The North Atlantic Fish & Workboat Show is one of Canada's largest commercial marine events. Featuring the products and services at the heart of Atlantic Canada's marine-based industries, it's for anyone who makes a living in, on, or around the water!
DATE, TIME & LOCATION
Friday, November 17
10:00am - 5:00pm
Saturday, November 18
10:00am - 4:00pm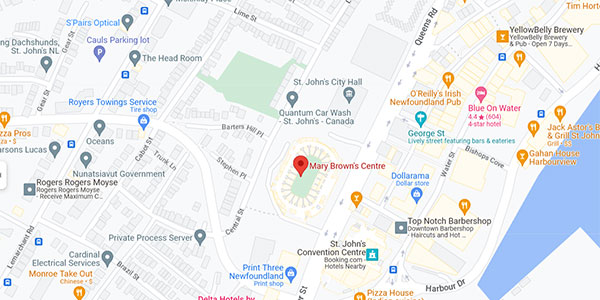 Mary Brown's Centre
50 New Gower Street
St. John's, Newfoundland
A1C 1J3
(709) 758-1111
Exhibitor List 2021
3F Waste Recovery
Active Fibreglass Inc
Alliance Mercantile Inc
Alu Design & services AS
Anglo Belgian Corporation
Aqua Production Systems
Atlantic Electronics Ltd
Benson Buffett Plc Inc
Blois Fish Processing Automation
BOPP Hydraulics
Britmar Marine Ltd
Business Development Bank of Canada
Canadian Coast Guard Auxiliary
Cavanagh Auto Traders Ltd
CD Nova Ltd
Chantier Naval Forillon
Cox & Palmer
Cube Automation
C & W Industrial Fabrication & Marine Equipment Ltd.
Distribution Eugène Gagnon Inc
Dunlop
Duxion Motors Inc.
East Coast Hydraulics
Entreprises Shippagan
Fish Harvesters' Resource Centres (FRC)
Fish Harvesting Safety Assocation (NL-FHSA)
Fish, Food and Allied Workers (FFAW/UNIFOR)
Genrep Ltd
Glamox Inc. (Canada)
Hampidjan Canada Ltd
Hebdraulique Nl
Icom Canada
Industrial Bay International Ltd
Jackfield
Jastram Technologies Ltd
Katsa Gearboxes
King Lifts Limited
Kort Propulsion
MacDuff Ship Design
Mackay Marine
Madsen Power Systems
Maritime Marine Supply
Martak Canada Ltd
Mercer's Marine Equipment
Mills Pittman Twyne Law Offices
Mustad Autoline Canada Inc
New Way Diesel Inc
Nord Marine Services Ltd
North Atlantic
North Atlantic Supplies Inc.
Notus Electronics Ltd
Ocean Choice International
Ocean Yacht Sales
Oil Filtration Solutions
Osborne Propeller
Paint Shop
PBA Industrial Supplies
Pfhcb
Phoenix Lighting
Public Services and Procurement Canada - Procurement Assistance Canada
R.W. Fernstrum & Company
Raymarine
Regroupement Des Pecheurs Du Sud De La Gaspesie
Rock Safety Industrial
Rutter Inc.
Saeplast Americas Inc.
Sansom Equipment Limited
Sealand Insurance
Shield Industrial
Shoreline Lubricants
Showa
Southern Shore Hydraulics
Spartan Industrial Marine
Superior Glove
Surewerx-Ranpro
T.R.T. Services Limited
Tamal Industrial Rubber Ltd
The Navigator Magazine
TRC Hydraulics (Division of Motion Industries)
Trinav Fisheries Consultants
Trinav Marine Brokerage
Trinav Marine Design Inc
Vericatch
Vonin Canada
Wedgeport Boats Limited
Western Hydraulic Mechanical
White Glacier
Wooden Boat Museum of Newfoundland and Labrador
Yates Boatbuilding
IMAGE GALLERY