ABOUT THE SHOW
This key trade event for the North Atlantic region brings together key buyers and suppliers every two years. After being postponed during the pandemic, everyone is eager to return to live, in-person events. Meet your customers face-to-face at this can't-miss opportunity for everyone who works in the commercial fishing and marine industries. Build your customer base, showcase your products and services, and position your company name at the forefront – all at the Mile One Centre in St. John's.
Building on the success of the 2018 event, which welcomed nearly 3,500 industry buyers from Newfoundland & Labrador, Saint Pierre & Miquelon, and beyond, the 2021 event is sure to be a success. Now is the time to book your space and put your company in front of thousands of professionals ready to network and make purchases for their businesses.
DATE, TIME & LOCATION
Friday, November 19
10:00am - 5:00pm
Saturday, November 20
10:00am - 4:00pm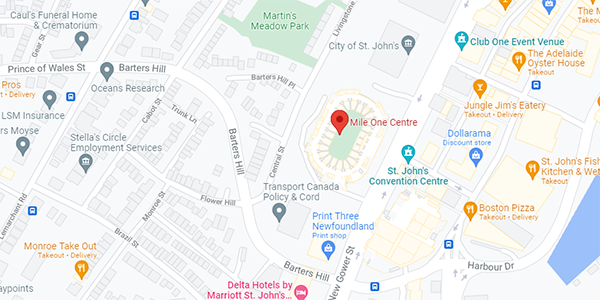 Mile One Centre
50 New Gower Street
St. John's, Newfoundland
A1C 1J3
(709) 758-1111
EXHIBIT PACKAGE & PRICING
EXHIBIT LIKE A PRO - UNBEATABLE EXHIBIT VALUE!
Your booth package includes:
8ft drapery backwall & 3ft drapery sidewalls

Standard colour booth carpet (10 x 10 booths only)

Forklift service up to 5000 lbs (delivery to and from booth only; no special lifting equipment)

Unloading and reloading of all crated and uncrated shipments

Removal and return of all exhibit crates

Daily Booth Cleaning

Computerized registration system

Container storage

Unlimited personalized complimentary pre-registration forms to give to your best customers, giving them the opportunity to pre-register for a FREE show pass

24 hour security

Complimentary listings on the show website, in the Official Show Guide.

Shared 110 volt electrical outlet

The Digital Marketplace will provide you with an opportunity to extend your marketing reach after the live show is complete. It includes a listing for each exhibitor – with contact information and the ability for you to add additional information like photos, videos, product highlights, and more.

How does this work? The Digital Marketplace will be advertised through our social media channels, as well as through direct email communications to our dedicated list of commercial fishing professionals. Our audience marketing campaign will begin upon completion of the live show and will run for a two-week period: November 22 to December 6, 2021.

You receive a BASIC listing for the Digital Marketplace as part of your exhibit package. The basic listing automatically includes:

Company name and logo

Links to your website & social media accounts (if applicable)

Web form for leads (which will be emailed directly to you)

Plus, you'll have the ability to log in and make changes to the following:

Company description

Product highlights and deals & specials

One YouTube video link

Up to four images (jpg, png, gif files only)

Captions for your images
PRICING: $13.25 per sq. ft.
(100 sq. ft. minimum)
Talk to us about special boat display pricing. 
For even more exposure, we're offering a sponsorship opportunity!
Be featured on our social media channels and be included in of our email blasts to our list of engaged industry professionals.
In addition to what's included in the basic listing, the $500 sponsorship gets you:
Prime placement as a sponsor at the top of the Digital Marketplace

A social media shoutout with your company's Facebook page tagged, a photo or video, 100-200 words of text, and a link to your listing.

An email blast shoutout with a photo or video, up to 100 words of text, and a link to your listing.

The ability to add a large-scale feature video at the top of your listing, plus additional YouTube links (up to 8 total)

The ability to add hyperlinks to images and videos
Book Space
To fax or email your Space Rental Contract, please click the "Download" button to get a copy of the contract then send it in to us using the information on the form. To fill out the Space Rental Contract online, please click the "Online" button to the right.

Room Block available until November 1, 2021
Rates starting from $149.00 per night
1-866-727-6636
Image Gallery